April 30, 2018 · 4:56 pm
Social Media Content Ideas for Every Day in May
We have several ideas to help you come up with fun social media content for May.
May 1: May Day falls on the first day of the month, and you have two options for recognizing this holiday: You can celebrate the coming summer months, or you can use this occasion to commemorate workers' rights.
May 2: This day marks Brothers and Sisters Day. Encourage your followers to give some love to their siblings and post some old, funny photos of your brothers and sisters.
May 3: Show your support for your local journalists by writing and posting a thank-you letter to your favorite reporter for World Press Freedom Day.
May 4: May the 4th be with you on Star Wars Day. Share a photo of your favorite character and conduct a poll asking which movie is the best in the franchise.
May 5: Who doesn't love Cinco de Mayo? Make a classic margarita to celebrate Mexican Independence Day. Post a video of your mini-celebration on YouTube.
Bonus idea – May 5: It's also Free Comic Book Day, so head to a nearby comic book store to grab the newest edition of your favorite series. Tell your fans about this day and ask them to post a photo of the latest issue of their favorite comic.
May 6: No Diet Day is probably the best holiday in May. Enjoy all of your favorite foods without regard for the calories. Post photos of your food, and ask your followers to do the same.
May 7: National Tourism Day is today. Spread the word about ethical tourism to your followers on Twitter.
May 8: World Red Cross Day is today. Post a link on your social channels and ask your followers to make donations to the Red Cross.
May 9: Recognize your administrative staff on National Receptionist Day. Shoot a short video of you bringing flowers or a small token of your appreciation to your receptionist or administrative assistant and post to your YouTube channel.
May 10: If you're a messy person, May 10 is your opportunity to clean up your act on Clean Up Your Room day. Post before-and-after photos of your room, then publish tips for keeping a clean home.
Bonus idea – May 10: Happy birthday, Bono! Post a link to your favorite U2 song on Facebook, and ask your followers to give Bono the best gift of all — a donation to one of his many charities.
May 11: Military Spouses Day gives us all a chance to say "thank you" to the people who support our troops from home. This holiday is an excellent opportunity to ask your followers to donate to a military charity.
May 12: Happy Birth Mother's Day! Regardless of whether or not your birth mother raised you, today is the day to celebrate her. Ask your followers to share stories of their birth mothers.
May 13: Speaking of mothers, May 13 is Mother's Day. Post a photo of you with your mother on your Instagram, and encourage your followers to do the same.
May 14: Believe it or not, this is Dance Like a Chicken Day. Post a video of yourself doing your best impersonation of a chicken or do the Traditional Chicken Dance.
May 14: National Women's Check-Up Day falls on the 14th. Express the importance of regular checkups and post helpful facts and statistics about women's health.
May 15: It's National Chocolate Chip Day — as Sensai team favorite. Post a photo of chocolate chip cookies on your Instagram, and ask your fans for their favorite recipes.
May 16: Purple for Peace Day is today. The idea is simple: Spread the word about peace by wearing purple. Change the color of your cover image to purple on your social channels for a day. Or, put a purple overlay on your Instagram photo to mark the holiday.
May 17: Pack Rat Day is a special holiday for people who hate to throw anything away. Run a contest to see which of your followers is the biggest pack rat. Encourage them to post photos of their most extensive "collections."
Bonus idea – May 17: Wish Jordan Knight from New Kids on the Block a happy birthday. Post a clip of your favorite NKOTB video. Or, play name that NKOTB tune with your followers.
May 18: National Bike to Work Day is today. Remind your followers of the holiday and explain the benefits of biking to work on your Facebook page.
May 19: This day marks Armed Forces Day. Post a list of ways to recognize our military service members on your social channels.
Bonus idea- May 19: For National River Clean Up Day, share a list of national volunteer groups that help to keep rivers and bodies of water clean.
May 20: Foodies rejoice: May 20 is National Quiche Day. This is a prime opportunity to go to brunch, order some decadent quiche and post the picture on Instagram. Tag other food bloggers and lifestyle influencers who love food, too!
May 21: National Waiters and Waitresses Day is today. Use the hashtag #WaitersAndWaitressesDay when posting messages, and encourage your followers to leave a good tip on this day.
May 22: World Goth Day is today. Take photos of yourself embracing your inner goth by dressing all in black and posting the photos on Instagram.
May 23: Use Lucky Penny Day to play a prank. Here's how it works: Glue pennies in conspicuous places in your home, and record friends and family members trying to pick them up. Post the prank on YouTube and thank your "victims" for being good sports.
May 24: For all the Queens out there, it's National Tiara Day. Put on your tiara and take pictures as you slay through your day.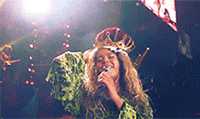 May 24: Victoria Day is today. Pay homage to America's neighbors to the north by enjoying some poutine. Post your favorite recipe on Pinterest.
May 25: Nerds unite! It's Geek Pride Day. Also known as Nerd Pride Day, post photos of your awkward phase or pay homage to your favorite geeks.
May 26: Celebrate International Jazz Day by posting classic Jass tracks from Thelonius Monk or Miles Davis.
May 27: The Indianapolis 500 starts on the 27th. If you're a race car enthusiast, then post photos of your favorite car and driver using the #Indiapolis500 hashtag.
May 28: Memorial Day is used to remember the sacrifices U.S. servicemembers have made. Use this holiday to recognize, members of the military that are no longer with us.  
May 29: This date marks the passing of Jeff Buckley, a brilliant musician known for "The Last Goodbye" and "Hallelujah." Point fans to his Spotify playlist to hear his music.
May 30: National Mint Julip day is on the 30th. Take a photo of you with a beautifully crafted cocktail at your local watering hole.
May 31: In our last food entry for the month, National Macaroon Day is on May 31. This trendy, colorful confections have popped up all over Instagram. Go to your local bakery and pick some up. Post the pictures on "the Gram" using the hashtag #macaroons.
If you can't find a holiday that would resonate with your audience try using the following hashtags:
#MondayMotivation

#TuesdayThoughts

#WisdomWednesday

#ThrowbackThursday

#FearlessFriday
These hashtags can provide great thought starters for content that will engage your audience.